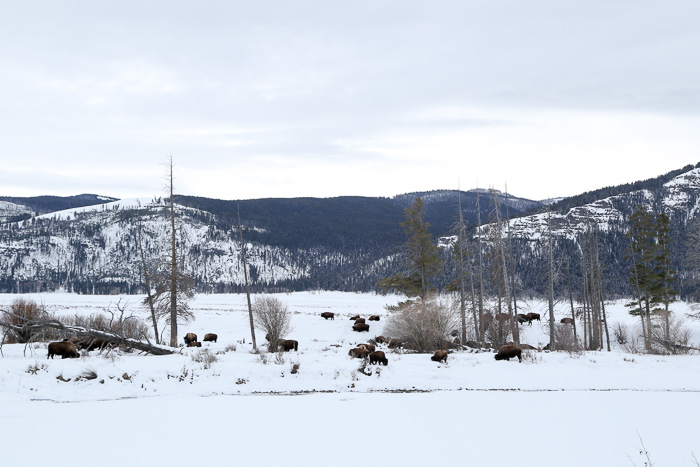 A couple years ago my girlfriend had this great idea to winter vacation in Canada. Not quite the type of vacation I had in mind. But she's a California girl and wanted a change of seasons. So she did some major arm twisting and my sister and I met her in Montreal and Quebec City. When I returned I swore the only winter vacations I would be taking again would require sun, sand and salt water. So when Luke's mom asked if we would join her in Yellowstone National Park for a winter vacation, I was a little hesitant. Why does everyone want to vacation in the snow? People I live and work in the snow, I don't want to play in it too. However I have to say I am thankful that Jayne planned this trip. Yellowstone is the place to visit in the winter. I'm serious it's magical. Just don't tell everyone! So I thought I what share my 10|10|10 and of course a handful of my favorite shots.
WINTER IS BEST.
1. Numbers are low. Yes temperature, but also tourists. If you want to see Old Faithful front and center or drive through the park without road rage then this is probably the best reason to visit the park in the winter. A ranger told me that 4.1 million people visited the park last year with the majority vacationing from late spring to early autumn. So let me paint a picture for you; the people of Montana could visit the park 3 times and still wouldn't exceed the total number of visitors from last year. There's just something to be said about visiting the park when there's probably more bison and elk then homo sapiens.
2. Photography.  Whether you are a professional or novice behind the lens, I swear you can't take a bad picture during the winter months. The animals pop against the white backdrop and the landscape is so mysterious with steaming geysers.
3. Bombardiers. Have you seen these retro snow coaches before? They were originally used for military snow operations but now they chauffeur you around to different areas of the park. Rumor has it they are going to retire but I don't believe it. They're iconic. Bring a blanket and keep a lookout for wildlife!
4. Grizzlies. Or lack of. Don't get me wrong, it would be pretty wild to see a grizzly but that's more excitement than I care for on the trail. So I enjoy the peace of mind that comes with winter hibernation.
5. No traffic. Most the park is closed to vehicular traffic which means you can head out for a quiet ski on a road that would normally be bustling in the summer. The park is your playground.
6. Old Faithful. No need to rub elbows with tourists. I hate to say it but I actually enjoyed browsing through the very interactive interpretive center until a couple minutes before when I watched the eruption through the floor to ceiling windows. I was warm and had a clear path. What more could I ask for?
7. Ice skating. Who doesn't like the idea of skating around a rink hand in hand with your husband. Luke took me ice skating once and I have a feeling that was a first and last. But that shouldn't stop you from dragging your significant other on the ice. The Snow Lodge has a nice setup out back with lights and a burning fire plus you can borrow a pair of skates for free!
8. The Boiling River. Soak in a natural hot springs on the Gardiner River. Trust me your body will thank you after all that skiing. Suits required so don't be that guy.
9. Wildlife. With a white backdrop the animals are easier to spot. Plus they are more concentrated in certain areas of the park in the winter. I have yet to see a wolf but I hear odds are higher in the winter since they are more active. And again, the white backdrop.
10. Frozen waterfalls. There are a couple trails in the park where you can ski or snowshoe to a frozen waterfall. I've seen my fair share of flowing waterfalls but not many frozen.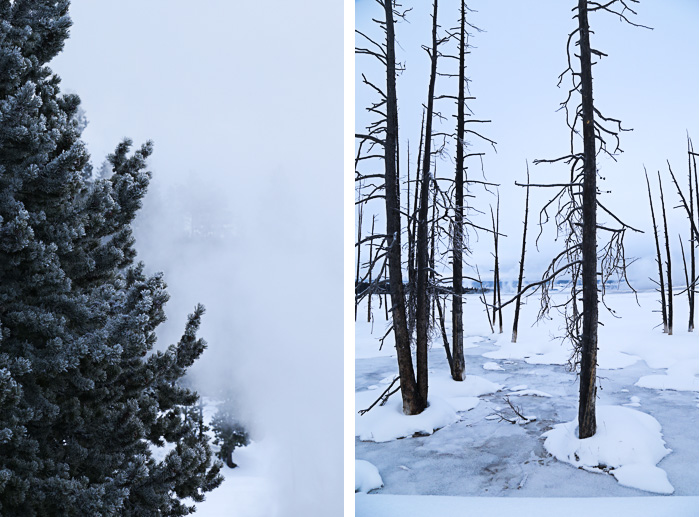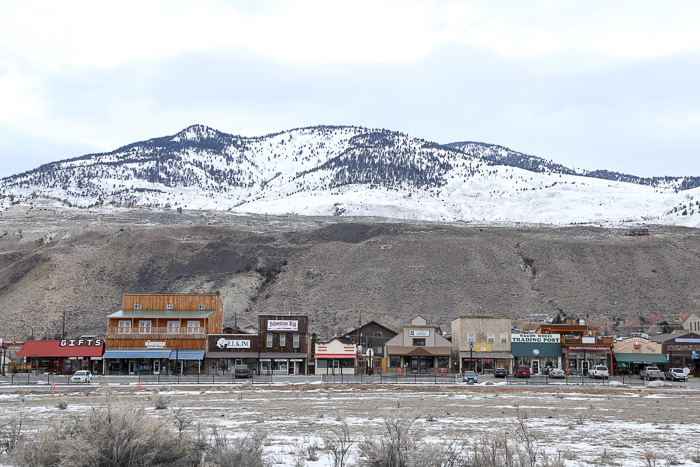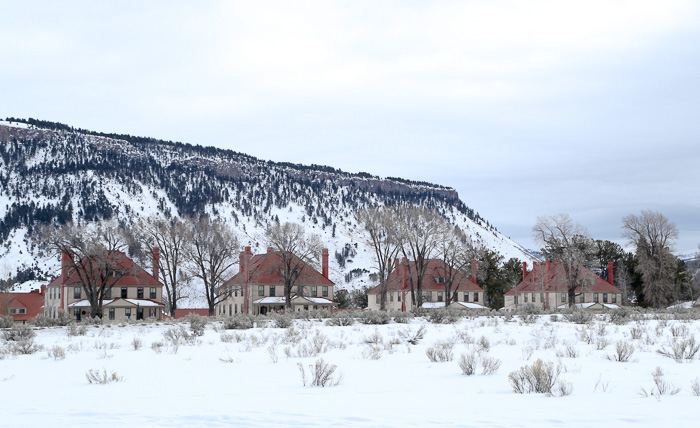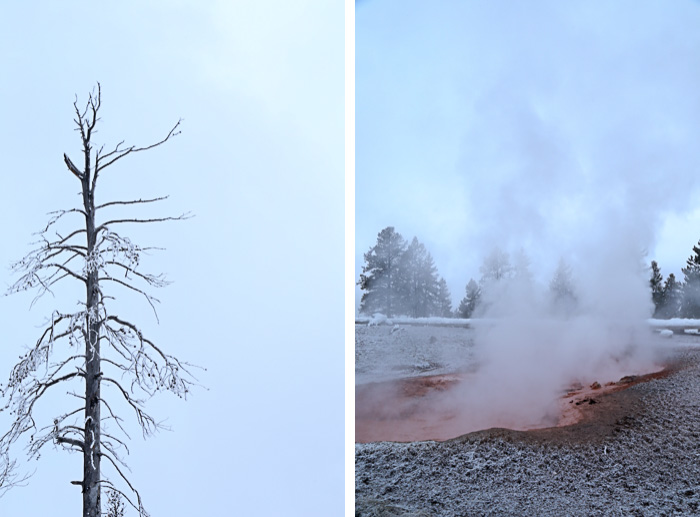 DON'T FORGET
1. Have you ever been hangry? Haven't heard this word before.
Hangry: adj. a state of angry caused by lack of food; hunger causing a negative change in emotional state.
Luke is very familiar with this word which is why he usually carries some sort of bar along with him in case I have an emergency. If you stay at the Snow Lodge there is only one way in and one way out and that's either on a snow coach or snowmobile. The mercantile is closed and your only two options are the Snow Lodge Dining Room and the Grille. And trust me you will probably tire of the menu if you stay more than one night. You can request a packed lunch but personally I prefer my own snacks.
Snacks I packed. Oranges and Apples/Sesame Honey Cashews/Nut Bars/Oatmeal Cookies/Chocolate/Hard Candy/Plantain Chips
2. Dinner reservations. So I mentioned above that you are pretty isolated at the Snow Lodge and your only dining options are limited so that means make your dinner reservations when you book your room otherwise you will be eating the early bird special or be the last seated.
3. A good read. The days are short which means after a good day of skiing there is still plenty of time to kill around the fire place with a book and a cold brew.
4. Skis and snow shoes. There are miles and miles of groomed trails. I was actually surprised to see trails groomed for skate skis. Obviously more Nordic trails but the best way to see the park is on skis or snowshoes so save some money and pack your own. You do have the option to rent but if I can save a couple bucks I will!
5. Camera. The park is breathtaking, really, and like I said you can't take a bad photo.
6. Binocs. This is one item I always remember after I'm on the road. Sometimes the wildlife is up close and personal but if you get the opportunity to watch a pack of wolves feast on a bison carcass from a distance you're gonna want the option to pull our your binocs.
7. Sunscreen and sunglasses. Sometimes these two items can be easy to forget when temps are low.
8. Flask and Whiskey. Nothing warms you quicker from the inside out when the sun starts setting.
9. Tours. The snow coach from Mammoth to Snow Lodge is about four hours and some of the Bombardier tours are all day. Just think it's good to know when you are planning.
10. Wine. If you have room in your luggage it doesn't hurt to throw in a bottle or two. Like I said, you spend your fair share of time around the fire place reading and drinking before your dinner seating and if you are done skiing at 4 p.m. your tab can add up quickly. The lodge didn't seem to mind if you shared a bottle around the fire place.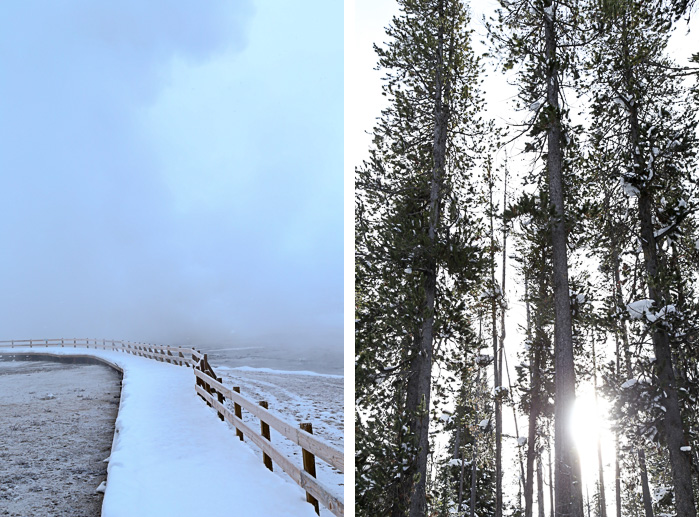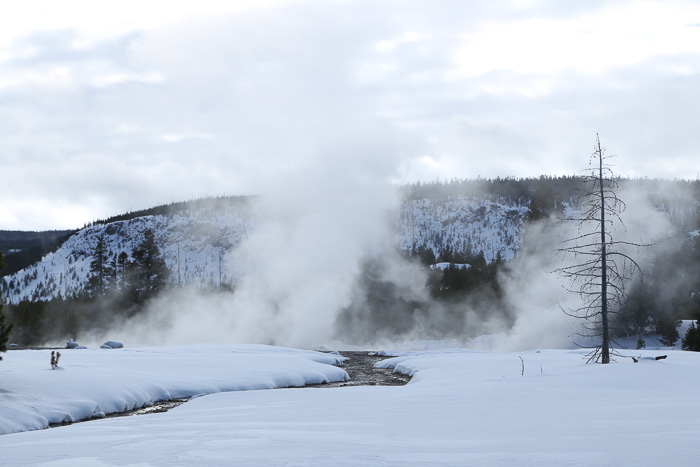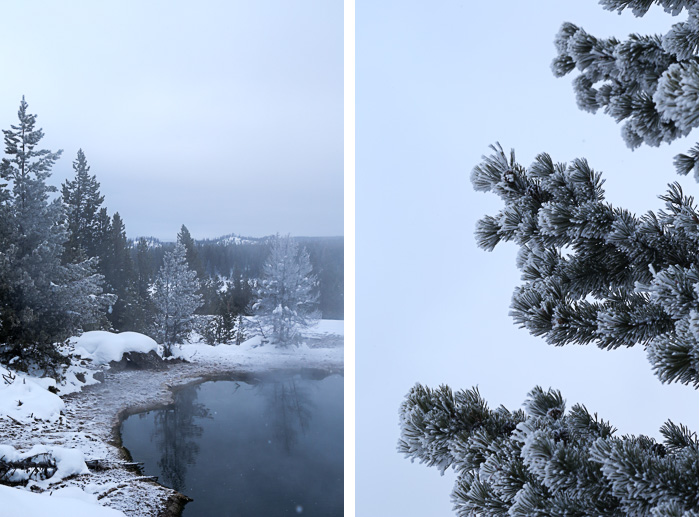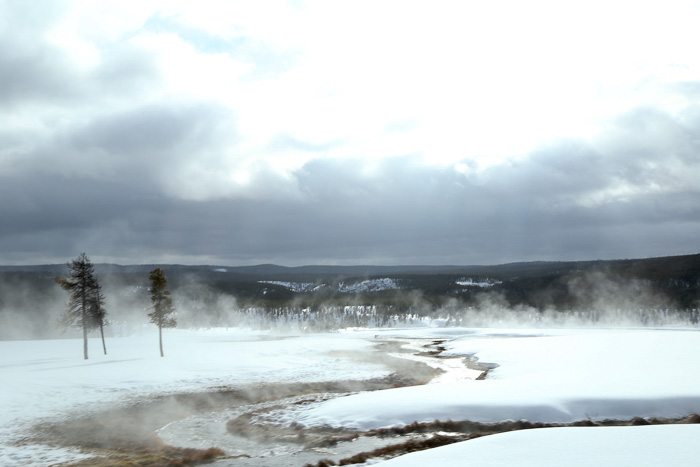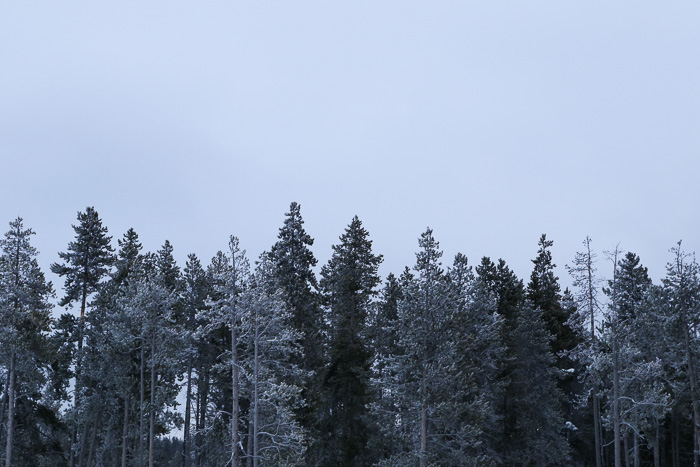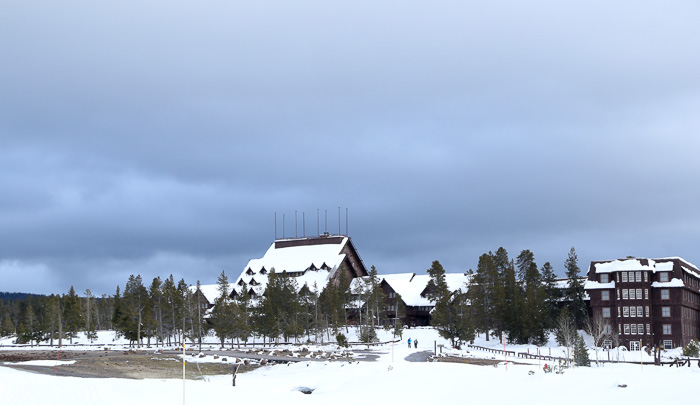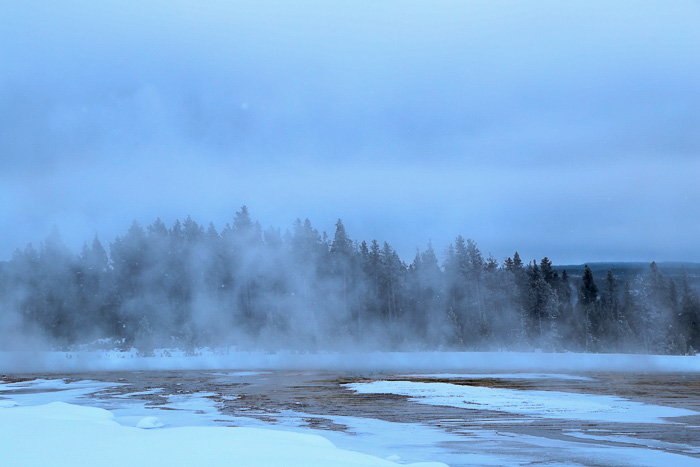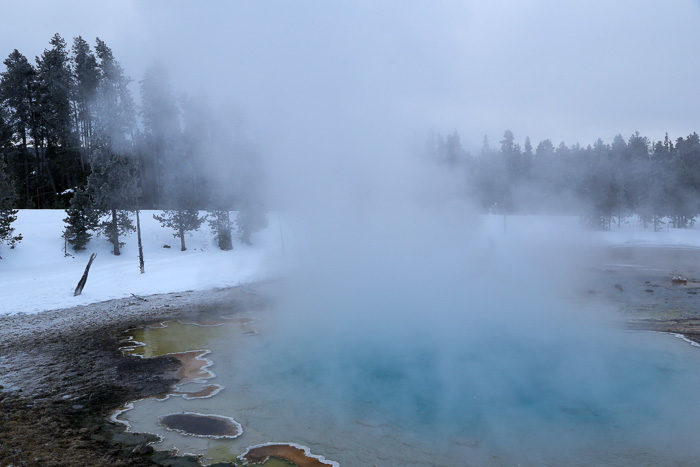 NEVER STOP LEARNING
1. Bobby sock trees. The dead lodge pole pines that look like they're wearing white anklet socks. These trees are usually found near hydro thermal areas. What happens is the tree's root system soaks up the mineral-laden water and when the water evaporates the minerals are left behind turning the lower portion of the trees white. The sulfur petrifies the root system so the trees do not rot and will stand strong (dead) for years. There are photographs of Calvary around Old Faithful with the same bobby sock trees standing today.
2. Bald Eagles. I did not know our Nation's mascot mates for life. So if you see one bald eagle perched on a tree, look closely because its mate is a beckon call away.
3. Snowmobiling and wolves. Top two controversial issues in the park. Every year the issue of snowmobiles in the park returns to Court. I was a freshman in high school when they reintroduced wolves into the park and I can remember the uproar it caused.
4. Obsidian Cliff. Obsidian is a type of volcanic glass that can produce cutting edges many times finer than the best steel blades. Who would have thought stone-age blades are still cutting it in modern surgery. It's true; surgeons that require fine cuts (i.e. esophagus) are choosing obsidian over steel and the Park shows off Obsidian Cliff.
5. Celebrating 100 years. Yellowstone National Park was signed into law by President Grant in 1872 but the National Park Service took over for the Calvary 100 years ago. So this year marks the centennial birthday of the National Park Service not the Park's birthday. The Calvary moved into the Park early on to control poaching.
6. Bison. These ungulates spend 9 to 11 hours a day foraging for food. They may seem docile as they pace back and forth all day eating grass but trust me they are nothing short of psychotic. Every year people are injured or die from a bison encounter. People, stop trying to take selfies and/or setting your children atop a bison like it's a pony. They're wild animals.
7. Indians. The Sheepeater Indians were the only tribe to stay year round and tough out the winters. And their highly prized hunting bows were crafted using horns of bighorn rams. The craft included soaking the horns in hot springs to soften them enough to mold the curve of the horn. The bows were exceptional weapons, perhaps the most powerful in North America before the advent of guns.
8. Pool colors. It all depends on the microbial ecosystem. Pigmented bacteria grow in microbial mats at different temperature ranges. Intrinsic blue indicates extreme temperatures and no organisms. The edges of a pool might consist of different prismatic colors depending on the amount of sunlight and temperature.
9. Lodge pole pine. We might not like to see a mountain side blazing but a lodge pole pine eagerly awaits the blazing heat from a forest fire. A lodge pole pine cone is tightly sealed with a resin and wood tissue that keeps the cones scales tight. Only extreme heat (temperatures that are only experienced with a forest fire) open the scales and release the seeds. Lodge pole pines are famous for colonizing post fire landscapes. The seeds are highly adaptive to the new environment and pop up almost immediately.
10. John Colter. He was the prototypical mountain man. He was part of the Lewis and Clark Expedition and on the return trip somewhere close to present day North Dakota he asked to be dismissed from the expedition. Lewis and Clark permitted Colter to be honorably discharged. He eventually made his way to the Teton Mountain Range and is credited for being the first person of European descent to enter the region known as Yellowstone National Park.