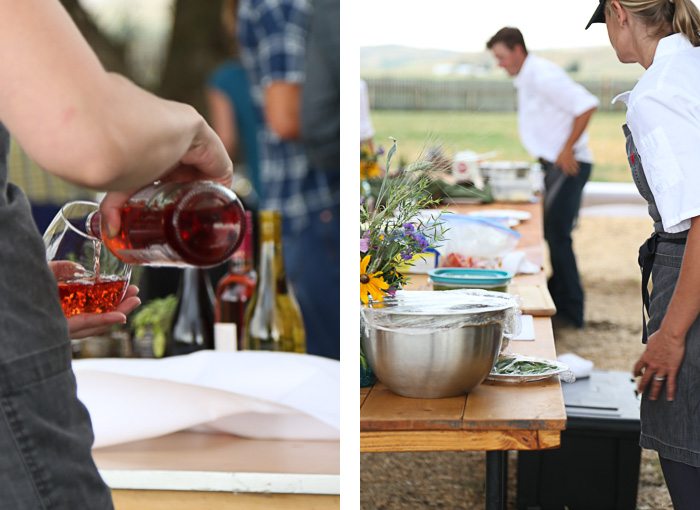 A week ago I hosted our annual Farm to Table inspired Field Dinners at the family ranch – the Cooper Hereford Ranch. Last year I hosted one event and had so much interest that I failed to accommodate everyone. So I decided to add one extra evening plus one new chef to this summer's lineup. Wednesday night's dinner was prepared by Chef Eric with Free Range Kitchen. All courses were individually plated and beautifully presented. We kept an intimate group with about 30 guests and had a wonderful evening meeting new folks and savoring bites. Sunday night's dinner was prepared by returning Chef Melissa Harrison with Seasonal MT. Farm to Table is her bread and butter so let's just say this wasn't her first rodeo. The dinner was served family style with a variety plates to choose from; my favorite being the Beet Hummus with Heirloom Slicer Tomatoes. Of coarse, not stating the obvious Cooper Hereford Beef main plate (wink wink)! I have to say that both dinners were a huge success. I am thankful for all the local farms and wine shops that participate and for all the hard work Chef Eric and Melissa muster through to make these events happen. I also want to thank all the amazing people that made the drive to Willow Creek for a night under the willows and to support our local community food system. I decided to post each chef's menus below so those of  you that did not make it know exactly what you missed and why you must join us next summer!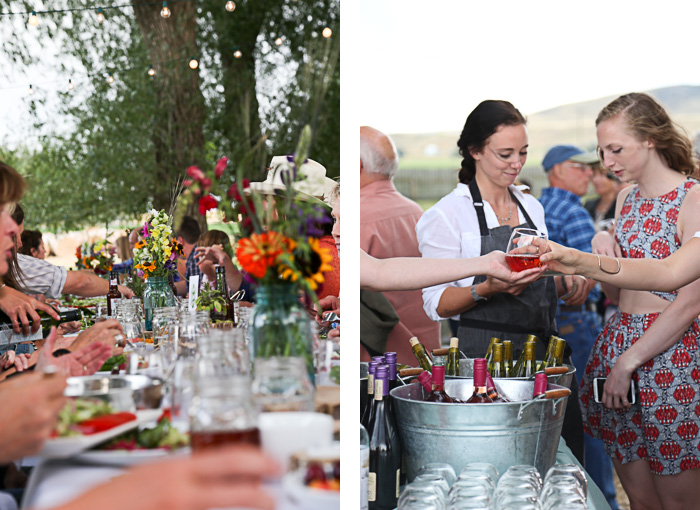 Chef Eric's Menu | Free Range Kitchen
A P P E T I Z E R S
Pulled Pork Tacos & Wild Coho Salmon Cakes
 1 S T   P L A T E
Farro Risotto with Slicer Tomato and Cooper Hereford Meatball
2 N D   P L A T E
Bibb Salad with Local Beets, Heirloom Carrots and a Fresh Herb Buttermilk Dressing
M A I N   P L A T E
Slow Roasted Cooper Hereford Sirloin
Chanterelle Broth
Twice Baked Potato
D E S S E R T
Flathead Cherry Buckle
---
Chef Melissa's Menu | Seasonal MT
A P P E T I Z E R 
Smoked Brook Trout Dip
Crackers & Pickled Peppers
Rainier Cherries
F A M I L Y   S T Y LE   P L A T E S
Zucchini Squash Muffins
Grilled Squash Tapenade
Cucumber, Red Onion, Baby Fennel Salad over Slicer Tomato
Roasted Golden Beets & Chioggia Beet Salad
Red Beet "Hummus", Basil Pesto
Red Beet Hummus, Basil Pesto & Heirloom Slicer Tomatoes
Snow Pea & Apple Mint Salad
M A I N   P LA T E 
Cooper Hereford Beef Tacos
Local Wild Mushrooms
Charred Tomatillo Verde
Cilantro, Kale & Red Scallion
D E S S E R T 
Blueberry Cream Cheese Bread
Blueberries & Blueberry Yogurt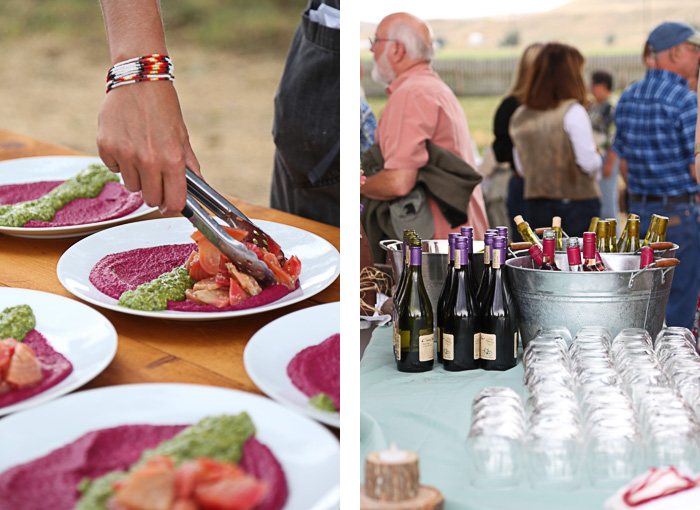 Wondering what to make with the bounty of red beets rising in the garden and markets? Well Chef Melissa with Seasonal MT was kind of enough to share her Beet Hummus recipe. I'm a huge fan. In fact, I just made another batch today. It's incredibly vibrant, sure to catch the eye. Layer some heirloom tomatoes on top with a dollop or two of pesto and you have a gourmet healthy lunch in minutes.
Beet Hummus // makes approx. 2 servings
1/2 lb. beets (scrubbed clean, cooked, peeled and cubed)
2 Tbs. sesame seed paste (Tahini)
5 Tbs. fresh squeezed lemon juice
1 Clove garlic (chopped)
1 Tbs. Ground cumin
1 Tbs. lemon zest (zest from approx. 2 lemons)
1 Pinch sea salt (or kosher salt)
Ground pepper to taste
Place all ingredients in a food processor and pulse until smooth. Depending on the beets, you might need to add a little local honey to taste.
Don't forget – S U P P O R T    L O C A L ! !