I think Spring has finally sprung at the Cooper Hereford Ranch.
We finished seeding the spring wheat last week. The pastures are showing signs of life; hopefully this means we can stop feeding hay in the next couple of weeks if Mother Nature delivers some moisture. We are busy servicing pivots and wheel lines and burning ditch in preparation for the irrigation season. And, I almost forgot, since it feels like a decade ago, that we are just about finished breeding all the heifers and cows. The process started in mid March after the Annual Bull Sale. Whew, it's time consuming.
If you enjoy the ranch updates, I typically post more photographs on Instagram. Follow me here if you want to get your daily dose of ranch life!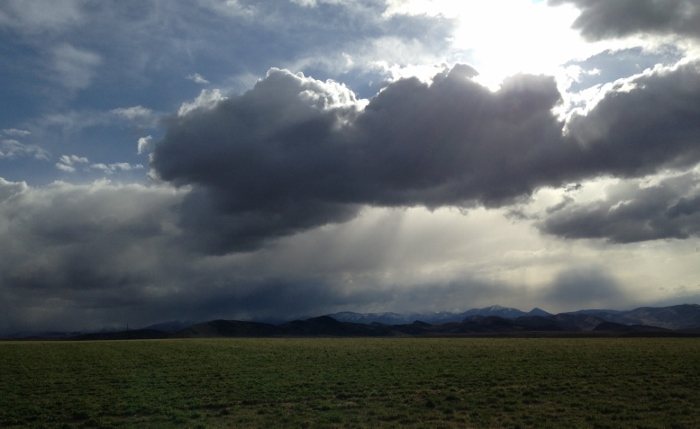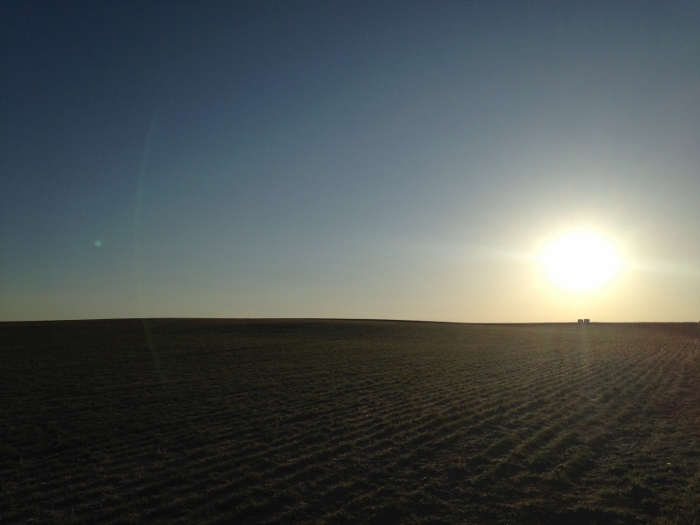 Since it's officially Spring, that means there is an abundance of asparagus spears available at the markets. Asparagus is one of my favorite vegetables and I especially like to incorporate it into salads. I made a side salad using asparagus for Easter dinner and since then I have made it a couple different ways.
My sister's are always requesting more salad recipes. I make salads often but find myself rarely writing the recipes on paper. I am typically a very detailed and precise person but when it comes to salads the recipes usually sound something like this; a lot of asparagus, a couple handfuls of spinach, a splash of extra virgin olive oil and white balsamic vinegar and a sprinkle of feta. Not the easiest recipe to follow, unless of course that is exactly how you like to cook….a little of this and a little of that! So this recipe, or lack of, is my way of encouraging you to color outside the lines. So I am merely providing you flavors and textures that compliment each other and I am asking you to  add as little or as much as you like until the salad looks and tastes just right. Who really likes to follow a recipe anyways. Don't we just want to be inspired?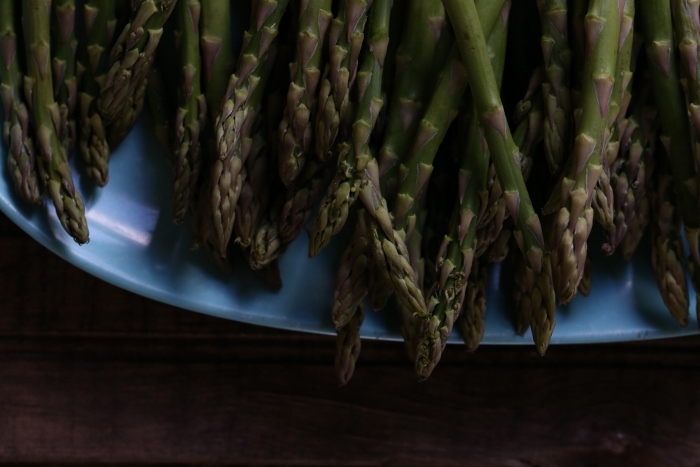 Spring Salad
WHAT YOU'LL NEED
A lot Asparagus
One pickled red onion (see below)
A couple handfuls of spinach
One cucumber, seeded and cubed
As much hard boiled egg as you like
Enough feta
Enough crispy Prosciutto Bits (see below)
A couple cups of cooked Farro
THE BASICS
The first couple of times I made this salad I simply tossed the asparagus, pickled red onion, spinach and cucumber with equal parts of quality extra virgin olive oil, white balsamic vinegar and salt and pepper to taste. Then I garnished with quartered hard boiled eggs, feta and crispy prosciutto bits. It doesn't get any easier!
A later version included cooked farro in lieu of the crispy prosciutto bits. If you haven't tried farro yet this salad is a great introduction to the grain. Not only is it delicious in salads but I also like to use it in soups and baked pasta dishes. I buy the quick cooking farro that only takes about 10 minutes on the stove top. I tossed this salad with a four herb vinaigrette. Basically I whisked together extra virgin olive oil, lemon juice and zest, dijon mustard, garlic and finely chopped rosemary, tarragon, thyme and oregano. Very fresh and clean, the essence of Spring.
Pickled red onion is delicious and something I eat often on tacos, burgers and tartines. Something about the tangy bite from the vinegar that I just can't get enough of.
To make, it's quite simple. In a bowl, add 1 c. of vinegar and 2 Tbs granulated sugar. Whisk until sugar dissolves. Add 1 tsp. whole mustard seeds and salt and pepper. Add one thinly sliced red onion to the pickling liquid and refrigerate for at least 1 hour.
Prosciutto bits are equally delicious and can be used to garnish just about anything. It gives a dish that salty crunch that everyone loves. To make, set the oven to broil. Spray a baking sheet and lay a couple strips of prosciutto on the greased baking sheet and broil for about 3 to 5 minutes until crispy. Transfer prosciutto to a plate lined with paper towels. Crumble.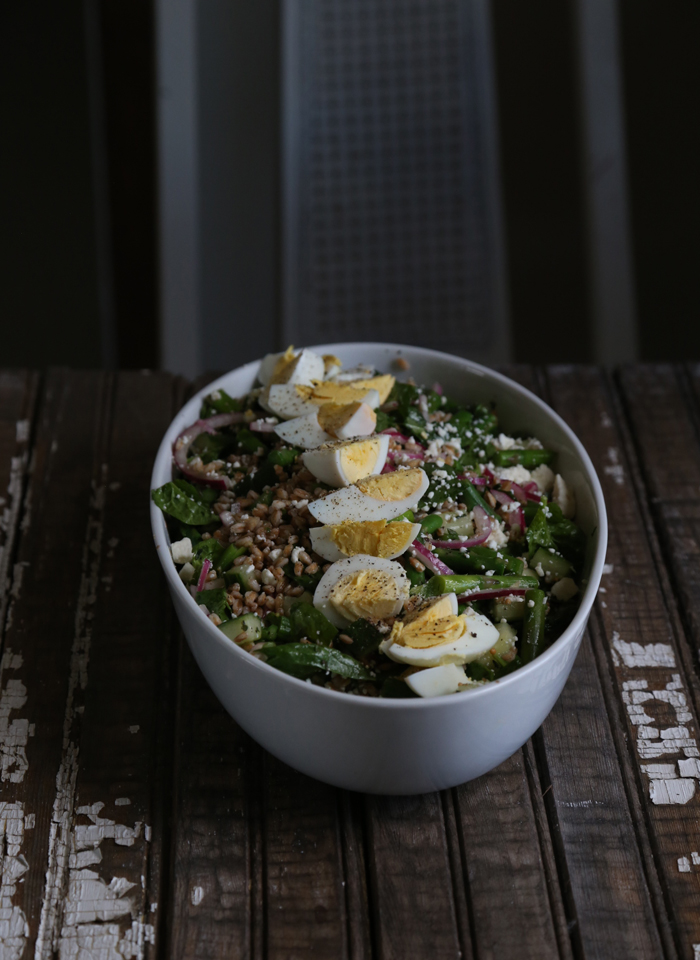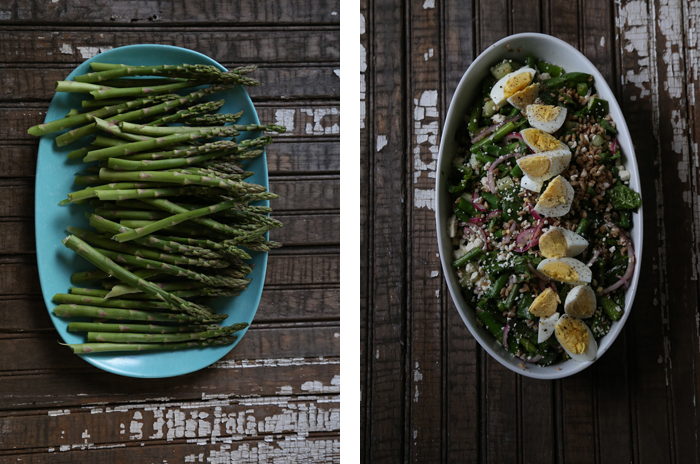 WHAT"S HAPPENING
Looking forward to learning from Jody Engstrom with My Nutrition Living next Tuesday April 28th at Bridger Kitchens. She is teaching her dairy and non-diary ferments class. Think yogurt and beyond!
If you are local to Bozeman, join me at the Emerson Cultural Center on May 7th for this event.
Recently purchased these jeans and this swimsuit. Tip: Recycle your old jeans at Madewell stores and you'll get $20 off a a new pair.
Don't forget about the Derby. Check out this L.A. based hat designer here and make mint juleps with this recipe and use these pewter cups.