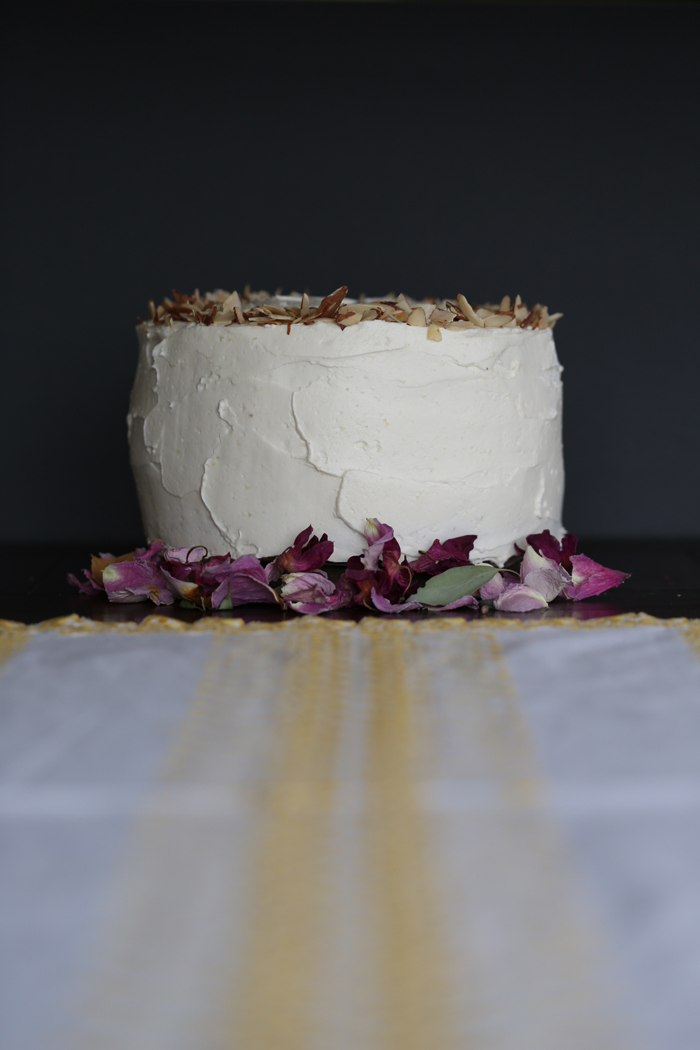 My sister passed along a cookbook a couple months ago. The book is called Baked Explorations < Classic American Desserts Reinvented >. Author's Matt Lewis and Renato Poliafito  take our country's treasured treats and reinvent the recipes with their signature tongue-in-cheek style. Think Whoopie Pies, Monkey Bread, Peanut Butter and Jelly Bars, the Sweet and Salty Brownie and Mississippi Mud Pie AKA Coffee Ice Cream Tart, just to name a few.  This is the type of cookbook that inspires me to make  change to the 'old reliable'; to try substituting, adding or removing ingredients without compromising the familiar and comfortable flavors known to a recipe. After all, change is good!
A couple weeks ago a friend asked me if I would make a cake for her daughter's baptism. I often make cakes for family and friends so I was obviously happy to contribute and be a part of her special day. I decided to try the Aunt Sassy Cake from the aforementioned cookbook. The original recipe is a white based cake with pistachio nuts but I modified it slightly substituting almonds for the pistachio nuts and also a small amount of almond flour for all-purpose. I thought almonds might be more appealing to a variety of palettes even though I am a big pistachio fan. The cake is delicious but the real shining star is the Honey Vanilla Buttercream frosting. It's light and creamy and not too sugary. I think this is a recipe to file amongst your white cakes!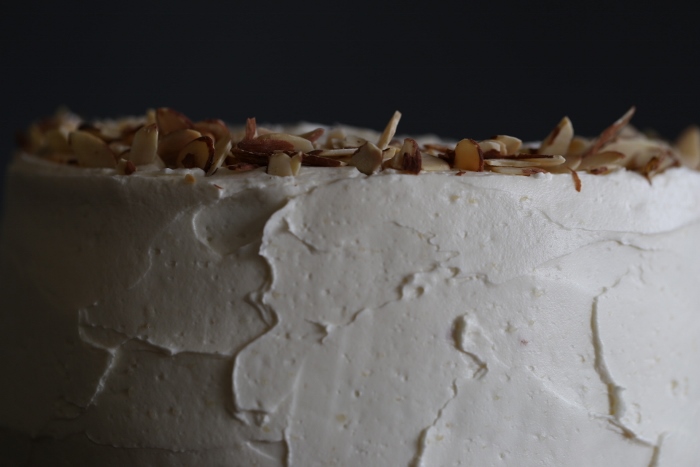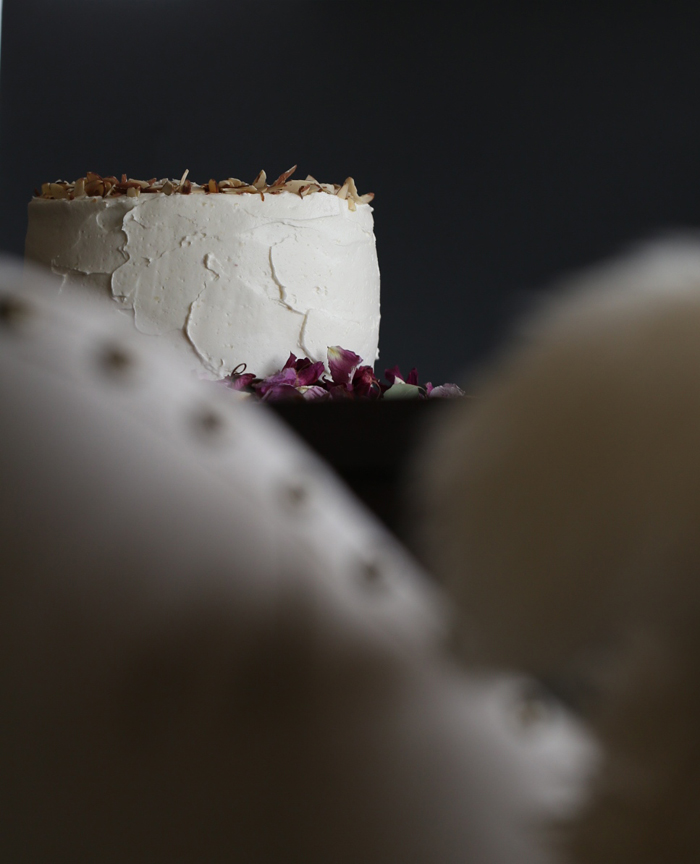 Honey Vanilla Buttercream / yields enough for one 8-inch, 3 layer cake
Recipe from Baked Explorations
1 1/2 c. sugar
1/3 c. all-purpose flour
1 1/2 c. whole milk
1/3 c. heavy cream
1 1/2 c. (3 sticks) unsalted butter, soft but cool, cut into small pieces
1 tsp. pure vanilla extract
3 Tbs. honey
In a medium, heavy-bottomed saucepan, whisk the sugar and flour together. Add the milk and cream and cook over medium heat, whisking occasionally, until the mixture comes to a boil and has thickened, about 10 to 15 minutes.
Transfer the mixture to the bowl of a standing mixer fitted with the paddle attachment. Beat on high speed until cool (this takes at least 7 to 9 minutes of mixing; you can speed up the process by pressing bags of frozen berries or corn against the sides and bottom of the mixing bowl). Reduce the speed to low and add the butter; mix until thoroughly incorporated. Increase the speed to medium-high and beat until the frosting is light and fluffy, 1 to 2 minutes.
Add the vanilla and honey and continue mixing until combined. If the frosting is too soft, put the bowl in the refrigerator to chill slightly, then beat again until it is the proper consistency. If the frosting is too firm, set the bowl over a pot simmering water and beat with a wooden spoon until it is the proper consistency.
Note: For me the frosting was the right consistency, I did not have to cool or warm it like mentioned in last step.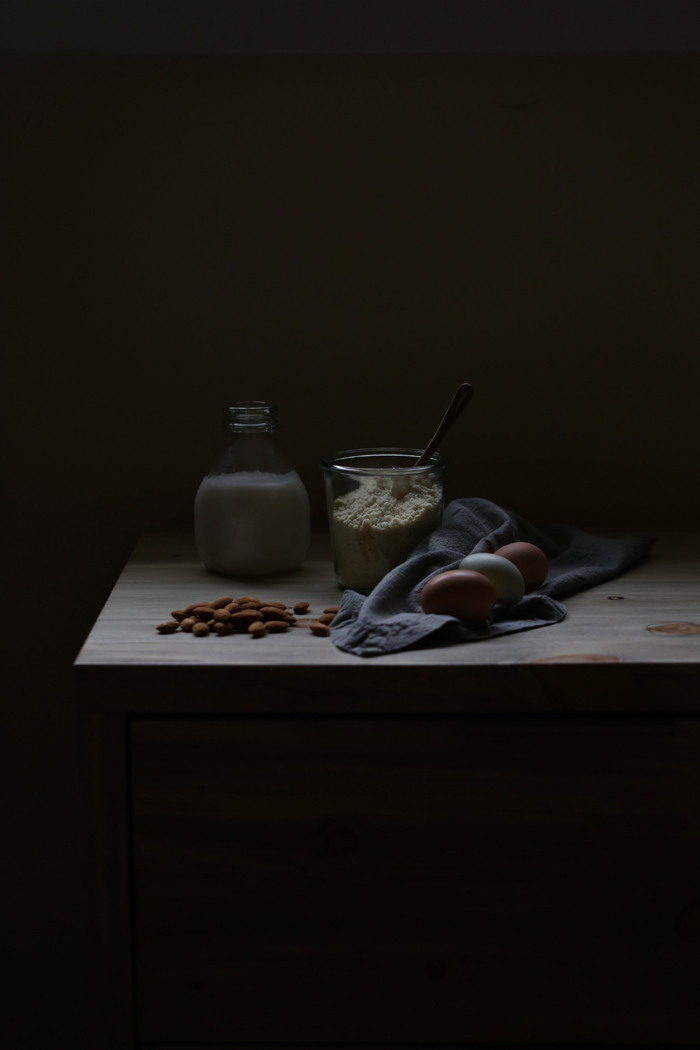 Take a peek at my photo album from recent trip to Tulum and Valladolid, Mexico.
If you want / need a new cake stand, I think this one could be dressed up or down.
Want to get creative and eat cake, sift through my piece of cake board on pinterest.
April showers bring May flowers; you need to follow Swallow and Damsons instagram account if you don't already.
I really need to find these boots for summer.
Check out new items on the Mercantile.